Monday Affirmations…
Hey boo so it is another Monday of work! Work!! Work!!!
And you wish you could just skip them Mondays like eliminating Mondays from the week I mean can we just skip to Wednesday pleaseeeee
Another Monday and you're thinking about how you're going to wake up early, beat traffic and face your annoying colleagues well dearie all that is normal to feel on Mondays, you just have to keep going, you got this! I want you to know that you'll be fine, you just have to hang in there a little while, I want you to remember that you've had worse days before, And if you could go through them and come out of them then you'll be fine.
I want you to know that you are strong, and this Monday and every other day got nothing on you, remember that your track record of overcoming those bad days are a 100% and this is nothing. Mondays can be tough, from having the thought of it on Sunday evening till it eventually happens! But what if you could transform your relationship with Mondays by changing your mindset? It all starts with your mindset. It's when you take control of your mindset and own your power you'll see an absolute change.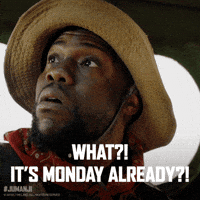 Starting your Monday with affirmations helps you feel happier and motivated by harnessing a fresh energy for your day. These powerful statements have a way of making you powerful, putting you in charge to rule your world.
How do you change your mindset and begin to love Mondays?
With positive Monday affirmations! You can use these motivational mantras at the beginning of a new week or whenever you need a fresh start. Pick a few that resonate with you and get ready to feel fantastic come Monday morning.
So boo, take a deep breath, chin up, build a positive mindset for today because you got this

And check out these Monday affirmations to shake off the negativity from your Monday and get ready to start off a wonderful week ahead!

• Today is a fresh day, it's a new day, and I'm going to kill it today. No one else can run today better than me I've got this and today I'll make something new happen.
• Just like the TikTok song 'I thank you for sunshine, I thank you for rain, it's a beautiful day' I'm grateful for today because it's a beautiful day.
• This is a fresh week, and anything is possible
• There's value in my work.
• This might not be my dream job, but I create magic and I'm valuable here
• I choose happiness I create my own happiness.
• My Mondays are filled with positive energy.
• I can do anything I put my mind to it and achieve all my goals.
• This week is a gift and I'm lucky to experience it
• This week I live my best life.
• I own today and I have everything to create a wonderful day
• This week, I will expand my comfort zone. It may not be comfortable, but it will be worth it.